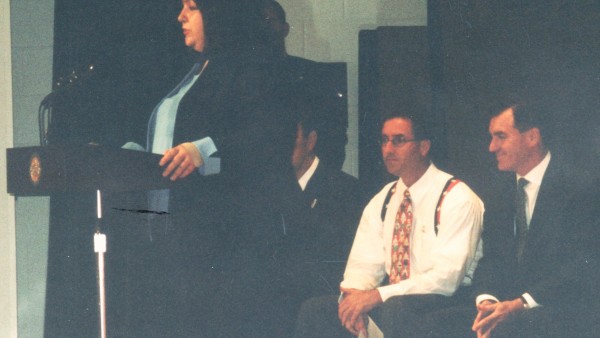 Down Memory Lane with Jacobson Elementary Kiddos
(Photo: Dr. Rosemarie Tipton at 9-11 Wall of Hope dedication. #Thomas Baldrick, Pennsylvania Governor Mark Schweiker seated behind her).
Look out! I apologize. If you're cruising down Memory Lane, I'm the guy who just went speeding by you…in reverse. There's no one to blame, only plenty to credit thanks to the new Jacobson Elementary School traffic video we just produced at AZ STRONG.
Before getting to the present and future, I'll quickly explain this relevant piece of my past. It's hard to believe the 13th Anniversary of the September 11th tragedies is coming up. It's hard to believe it's also been more than a decade has flown by since my first book was published.
"Kids' Rule! The Hopes and Dreams of 21st Century Children is now out of print. In my research for the book, I had over 10,000 kids across the country and around the world tell me what was most important to them. My job was to share it with readers.
Doing my first book was a long and winding labor of love. It was the cause of much laughter, and sadly some tears as little ones trusted with their hopes, dreams, and realities. I've never forgotten how enlightening the sacred journey of that book was for me. How could I?
Still, producing the new video about the traffic flow changes at Jacobson Elementary in Chandler, Arizona gave me the most powerful reminder I've had in years of this chapter of my life. I'm grateful.
Truth be told, I haven't really allowed the memories of my work as an author and recognized "Champion for Children" to see the Arizona sun. My bad. The life choices I made including what led me to move to Arizona pretty much packed away much of my past. For years, I've had all of my heart, head, and hands full focusing on another sacred journey. This one centers around one amazing little boy, and doing my best day and night as his "Go To Guy."
Videotaping dozens of Jacobson Elementary students on Friday brought my rear view mirror right in front of my face. They continued all weekend as I edited the video with their funny little lines and precious little personalities coming to life. From the kindergarten kiddos to the 6th grade rising stars, I couldn't help but have flashbacks to how much I enjoyed blending my professional television/video and writing skills with my genuine enjoyment of kids being who they are…where they are at that early stage in their development.
Speaking of driving, a few weeks ago I almost drove off the road when I caught myself telling my son, "Someday Daddy might write more books." I don't know if I will. I don't know when either. In the meantime, maybe I'll look to do more video work at AZ STRONG like the video about Jacobson Elementary School traffic flow changes.
What I do know for sure is this:
– I'm grateful I allowed the idea of doing the video to pop into my head and out of my mouth at a recent Jacobson Site Council meeting.
– I'm grateful for Principal Susan Powell, the staff, and many parents to trust me in working with their Kiddos.
– I'm grateful to all of the students for their time and effort in making the video a success.
– Finally, I'm grateful right now for honoring my feelings around use of the word, "Kiddos."
The word always reminds me of the late, great Dr. Rosemarie Tipton.
She was the amazing woman and educator at Shanksville Elementary School. Rosemarie guided, nurtured, and passionately protected her "kiddos" every single day, including September 11, 2001. That's the unforgettable day when heroes battled terrorists and crashed United Flight 93 in a rural Pennsylvania field just missing Shanksville Elementary School.
I miss you my dear friend. My work with the Jacobson Elementary School "Kiddos" has me thinking of you.
by Thomas Baldrick Google +