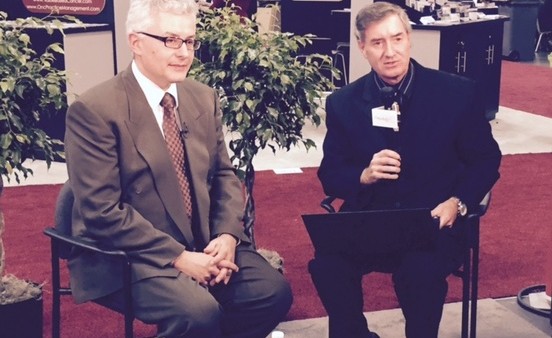 It's good to be home in Arizona. I've just returned from the 56th annual ASH conference. This year, the ASH 2014 event was set in San Francisco, CA. Unfortunately, my plans to go watch the Arizona State Sun Devils take on the Oregon Ducks in the PAC-12 Football Championship in nearby Santa Clara last weekend completely fell through (though it was all on the Devils and no fault of mine). But I digress.
Back to business. ASH is the acronym for American Society of Hematology. The five-day conference which was held at the Moscone Center downtown is the largest annual gathering for those who practice the branch of medicine dealing with the diagnosis, treatment, prevention, and research study of diseases related to the blood. Thousands of attendees come from across the United States and literally from around the world. (I've even met some from the University of Arizona, and the Mayo Clinic in Scottsdale).
I was on hand at ASH 2014 to represent Oncology TV. It's a leading online channel for educating oncology professionals. The site provides them with a platform for sharing clinical research news and information.
For years, my job at Oncology TV is serving as a host/interviewer. It's work which provides me a front row seat to seeing behind the scenes of what is going on in oncology clinical research studies. In a challenging position for a mere civilian, I sit down for talks with many of the finest oncologists, hematologists, and clinical researchers in the world.  I'm simply the on-camera facilitator helping these brilliant, dedicated, and passionate men and women to effectively share their data and clinical findings with their industry peers.
For example, the photo at the top of this post is during an ASH 2014 interview with a real favorite of mine, Dr. Srdan Verstovsek, from the MD Anderson Cancer Center in Houston, Texas. Dr. Serge, or Dr. V. as he often calls himself, is a shining example of medical care in its purest form. Every time I'm around him I can see, hear, and feel how much he cares about helping patients and their loved ones.
ASH = WOW
It was no surprise to me I walked away with a WOW effect from ASH 2014. The research projects being done, and those who are leading the way are easily impressive. Their proven successes and real, measurable progress are making for better patient outcomes every day. This ranges from earlier and more accurate diagnoses, to effective treatments and helping patients manage the effects of undergoing those treatments. It covers improving quality of life to extending survival and many points in between.
I can only imagine what kind of WOW effect ASH 2014 would give to someone who has a blood disease such as leukemia or myelofibrosis, or knows a loved one who does. It must be amazing to see and hear how some amazing minds are making amazing strides at understanding, treating, and ultimately beating some of these deadly medical conditions.
These developments sure make my not getting to see the ASU Sun Devils vie for the PAC-12 Football Title seem small, don't they?
Embedded below is a video sample of one of my dozens of interviews at ASH 2014. Remember, as you watch the video…even if you don't at all understand what is being explained, see if you can pick up on the hope cancer patients can have today and tomorrow.

Read more