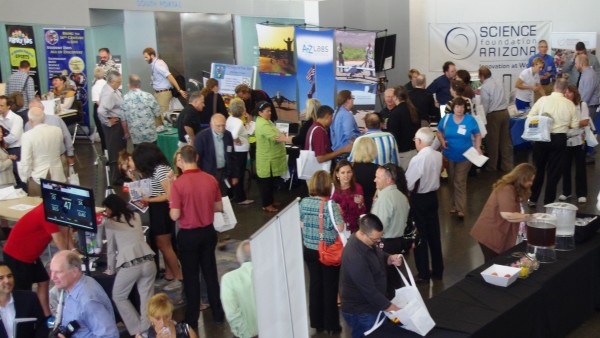 If you left early, you missed out. Those who stayed for the final general session event of the 2014 Innovation Arizona Summit were richly rewarded. There was tremendous value and insight shared during the Lifecycles of Innovation Panel Discussion for anyone interested in business and/or success.
The Arizona Commerce Authority, Arizona SciTech Festival, and MIT Enterprise Forum Phoenix gave the conference a theme of "Innovation: From Inspiration to Commercialization." This Lifecycles of Innovation session personified the theme. It featured outstanding Arizona business leaders who humbly and kindly shared details and advice from their economic successes.
Here was the cast on stage for Lifecycles of Innovation:
Mary Juetten: She was the moderator for the panel. Mary is the Founder and CEO of Traklight. Based in Phoenix, Arizona, Traklight is the only the only self-guided software platform for creating your custom (IP) intellectual property strategy.
My key takeaways from Mary Juetten:
– If you're looking for investment funding, just ask! Don't dance around the subject. She said she was echoing the wishes of investors she knows.
– If you're like most people, you get excited about building things. You have to remember someone has to buy it.
Justin Gray: CEO and Chief Marketing Evangelist of Lead MD. With offices in Scottsdale, Arizona and San Francisco, California, this company is a team of experts at automation marketing.
My key takeaways from Justin Gray:
– You have to build a business around your weaknesses. For example, Justin admitted he was overly optimistic in hiring talent. He now has others in place to help with the decision making process of hiring.
– Be fluid. Don't be forced or stay committed to an original idea. He said he was able to do this and Lead MD is now doing what they do best and filling a critical need in the marketplace.
Craig Hughes: Founder and CEO ofTotal Transit. This is a fully integrated transportation company in Glendale, Arizona. It provides both public and private transportation management services.
My key takeaways from Craig Hughes:
– One thing can lead to another as it did with Total Transit. But when you get a good idea, just stick to it.
– Taking on partners, giving away equity often creates more problems than it solves.
– Say things like they are reality. Then ask, "What do we have to do to get there?"
Paul Jackson: CEO of Integrus Capital, Bright Ventures, Worthworm, & D-Strut. Paul is a former aerospace engineer. He bootstrapped his first company and then raised millions from his guest house in Paradise Valley, Arizona.
My key takeaways from Paul Jackson:
– Getting investors is all about the relationship. When you sit in front of someone, it comes down to if they like you and what you do.
– Mitigate risk wherever you can.
– The best place to get money is from a customer. Get some good customers. Do this before raising money.
– Don't stop.
Bob LaLoggia: Founder and CEO of Appointment-Plus. This Scottsdale, Arizona company provides a scheduling software which helps organizations to be smarter, faster, and more efficient.
My key takeaways from Bob LaLoggia:
– Every business doesn't need funding or a huge exit to be successful.
– People you need will change over time. A true CEO makes these tough decisions and often has difficult talks with people in the business you care about.
– Make your vision clear. Don't give away anything in your business unless you are sure of the outcome. Have confidence in yourself before cutting in others.
Ibrahim Mesbah: He is the Co-Founder and CEO of Revolution Parts. This Tempe, Arizona company is a fully integrated eCommerce solution providing tools and service for growing online auto parts sales.
My key takeaways from Ibrahim Mesbah:
– Find a problem. Create a solution. Find some customers, and validate it.
– It's easy to get distracted. Stay focused!
I'd like to offer my gratitude to the presenters in the Lifecycles of Innovation session. I appreciated their time and contributions. I was inspired and educated by the stories and lessons learned from their failures, not just their successes.
By Thomas Baldrick  Google +
Read more