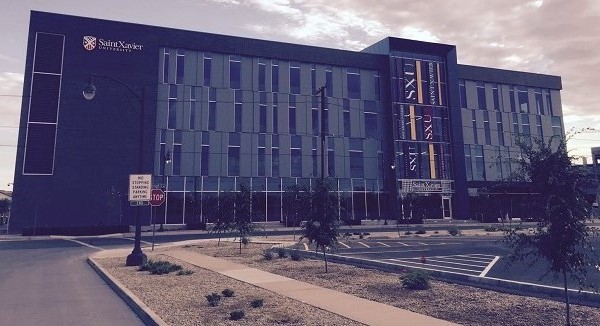 St. Xavier University Gilbert Campus Opens
The X seems to stand for eXcellence. That's if you're looking new St. Xavier University Gilbert Campus. The beautiful 87,000 square-foot, four-story building was just completed by Okland Construction. The doors opened this week in Gilbert, Arizona.
This is a satellite campus of the Chicago-based University. It is also the Town of Gilbert's first institute of higher education. Before you even get inside, you will see the Arizona office of Okland Construction made certain it was of the highest quality.
AZ Strong had the same mindset in our video production work at the St. Xavier University Gilbert Campus. We worked with Okland Construction to produce an in-depth series of maintenance training videos for internal use on campus. These videos got into the nuts and bolts of detailing how to do proper maintenance of the state of the art facility. There was a wide range of topics. It included videos on the audio/video technology, the air conditioning system, the fire safety and security systems, and more.
St. Xavier University Gilbert Campus Classes
The campus will offer both undergraduate and graduate business classes. Starting later this month, the undergraduate business courses will be the first available. An MBA program kicks off in October.
St. Xavier proudly features an outstanding online graduate nursing program. Last year, it was ranked No. 1 in the country by U.S. News and World Report. These popular nursing programs will be available at the Gilbert campus starting in fall 2016.
At the Grand Opening ceremony, SXU President Christine Wiseman said, "Together, in this wonderful mission of higher education, the town of Gilbert and St. Xavier University will produce an active learning environment in Gilbert and beyond… It is the stuff of dreams."
Okland Construction works by the core ideology of being passionate about "creating remarkable experiences." That's exactly what it was like for our team to watch their team. They worked hard to bring this beautiful building to life right before our eyes. Even more impressive was seeing all of the work done at crunch time in the dead of the Arizona summer heat with temperatures topping 100 degrees.
In speaking of the relationship with the town of Gilbert, SXU President Wiseman said, "May our joint legacy span another 170 years." Based on the way the construction was done, it's a good bet the St. Xavier University Gilbert Campus building will still be standing.