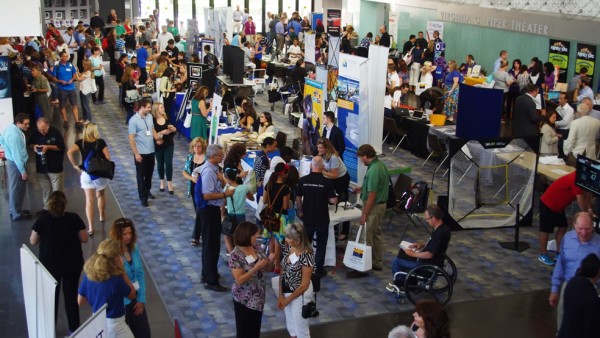 #InnovationArizona Experience
It's Saturday. But my thoughts are still with Thursday. My guess is if you attended #InnovationArizona 2014 you might be going through the same thing. So I'm sharing my experience from the innovative summit. This might help if you were there but in different workshops than me. It might also give you insight if you don't know what #InnovationArizona is or were unable to attend.
The summit is a one-day annual event held at the Scottsdale Center for the Arts. Tickets were just $20 in advance. The day's activities featured leaders of successful tech companies, investors, educators, and officials from government, and NGOs (non-government organizations).  Well-deserved kudos for presenting #InnovationArizona 2014 go the Arizona Commerce Authority, the Arizona SciTech Festival, and the MIT Enterprise Forum Phoenix in a joint collaborative effort. Sponsors such as Cox Communications, APS, and the City of Scottsdale were also major players.
STEM is the star of #InnovationArizona.
STEM stands for Science, Technology, Engineering, and Mathematics. It was everywhere, offering something of interest to seemingly everyone. At the core of most content was the theme of developing solutions to problems. These solutions are making for a better economy, and better ways of living and doing in Arizona and beyond our borders.
Why were educators and even students at #InnovationArizona ?
You don't need a degree in nuclear physics to figure it out. There was a great deal of information and valuable free resources on hand from the dozens of exhibitors. For example, the Arizona Geographic Alliance and Project Lead the Way.
Living truly outside the box of standard education was 14-year old keynote speaker, Logan LaPlante. The innovative whiz kid from Nevada led the audience inside Generation Z with his talk, "Hackschooling Makes Me Happy." He's enjoyed a lifetime of experiences and is driven to succeed before he's even old to legally drive.
I took to Twitter from the event on Thursday ( @ThomasBaldrick ) sending out a popular tweet which said, "Every school in Arizona should have a representative at #InnovationArizona. I truly believe it.
#InnovationArizona – Beyond Geeks and Techies
I also discovered you didn't need to be a science geek or techie to benefit from attending this summit. I am a classic example. If you are simply interested in business, any kind of business, the Innovation Arizona Summit would be worth your time. I couldn't help but feel and act like a sponge around the many wildly successful and innovative business leaders who presented, and graciously shared their successes and failures, and priceless advice.
Collaboration was in the air at #InnovationArizona. For instance, here are just a couple of the connections I enjoyed with innovative Arizonans at the summit.
– Conrad Storad. The humble, and award-winning Children's Author. He shared his stories of his creative approach to entertaining and educating young readers about science and nature.
– Alan Baratz. The CEO of Amber Alert GPS. He has such a passion for this life-saving and life-changing technology business. It's what led him from investing in the Scottsdale based company to literally taking it over.
– Melissa Rose. Founder of Biz in a Boxx. Coming from a family of entrepreneurs, Melissa developed a solution for her daughter struggling in school and turned it into a successful business. But that's not all. Her daughter is now on track for success and heading off to college.
The 2014 event was my first #InnovationArizona Summit. I look forward to going back and looking for opportunities to get even more involved.
It's funny. I went there on behalf of my new brand, AZ STRONG. I came away with a greater awareness of how we are truly gifted in our state. AZ has really strong people. AZ has really smart people, too.
So much focus is on Arizona's immigration problems. It's nice to focus here on Arizona innovation solutions.
by Thomas Baldrick  Google +