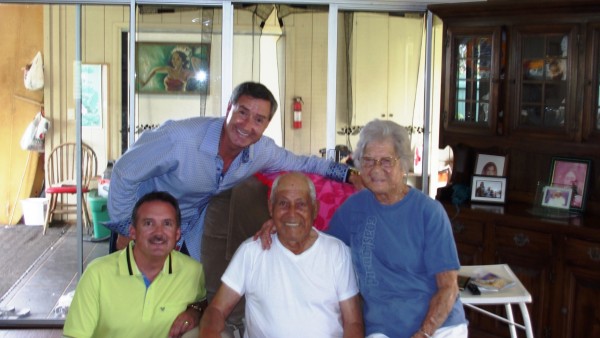 2014 Phoenix Veterans Day Parade Stars World War II Veterans
PHOTO: Thomas Baldrick behind Denis Parry, Pearl Harbor Survivor Herb Weatherwax, and Lovely Lehua Weatherwax at home in Oahu after doing an interview at Pearl Harbor. March 2014.
C'mon now. Wouldn't you like to actually see live World War II Veterans? Trust me Arizona, there's no DVR for this one. There is no Netflix, no must see TV. If you want to see and salute real World War II Veterans it must be done in person. They'll be live and in living color right in the heart of the 2014 Phoenix Veterans Day Parade.
This year's parade theme is "Duty, Honor, Sacrifice: Celebrating Our World War II Veterans." God willing, this special event won't be your last chance to see these Great American Heroes. But tomorrow is promised to no one. So, it sure will be your best chance.
Think about it. The legendary Invasion of Normandy is having its 70th anniversary in 2014. You've heard and learned about the Attack on Pearl Harbor. You've heard and learned about December 7, 1941 – "A Date Which Will Live in Infamy." Keep in mind, there's not too many men left who heard it and experienced it…THAT DAY!"
There's not too many soldiers remaining who answered President Franklin Delano Roosevelt's Declaration of War, and who fought and suffered in World War II…and survived. The odds say the World War II Veterans who still live in the Valley of the Sun or other parts of Arizona are marching closer to their final sunset.
"We feel it is so important to recognize our World War II Veterans this year," said Katherine Brooks, President of Honoring Arizona's Veterans. "We know they are aging. It is our hope to give them another joyous event in their lifetime through the 2014 Phoenix Veterans Day Parade."
This is not a time for procrastination. This is your time for participation.
Ask yourself: How many opportunities will you have to see these World War II Heroes?
Ask yourself: How many opportunities will they have to see you appreciate the tremendous sacrifices they made for you and your loved ones?
The saying is "History Repeats Itself." But this time, "History is Predicting Itself…for YOU." Take advantage of experiencing this fleeting moment in history. Bring your family, especially children. Bring a friend. We'll look for you at the 2014 Phoenix Veterans Day Parade next Tuesday, 11-11 at 11. For more info visit: http://www.HonoringArizonasVeterans.org/parade.
By Thomas Baldrick
AZ STRONG is proud to support the 2014 Phoenix Veterans Day Parade.
Thomas Baldrick is an Emmy Award-winning on-camera talent and producer/writer based in Arizona. From script to screen in video production services, he helps companies, organizations, and individuals across the country to achieve the success they and their target audience want.